Brief outline of Gujaratis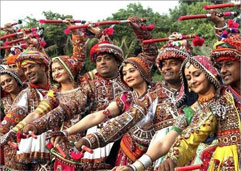 With huge migration for economic reasons, most Gujaratis in India live in the state of Gujarat in Western India. Gujaratis also form a significant part of the populations in the neighboring metropolis of Mumbai and union territories of Daman and Diu, and Dadra Nagar Haveli, both being former Portuguese colonies.
There are very large Gujarati immigrant communities in other parts of India, most notably in Mumbai, Delhi, Calcutta, Chennai (Madras), Bangalore and other metropolitan areas like Kollam and Kochi in Kerala.
All throughout history Gujaratis have earned a reputation as being India's greatest merchants, industrialists and business entrepreneurs and have therefore been at forefront of migrations all over the world, particularly to regions that were part of the British empire such as Fiji, Hong Kong, East Africa and countries in Southern Africa.
Diasporas and transnational networks in many of these countries date back to more than a century. In recent decades, larger numbers of Gujaratis have migrated to English speaking countries such as the United Kingdom, Australia, Canada and the United States
The countries with the largest Gujarati populations are Pakistan, United Kingdom, United States, Canada and many countries in Southern and East Africa.
Globally, Gujaratis are estimated to comprise around 33% of the Indian diaspora worldwide and can be found in 129 of 190 countries listed as sovereign nations by the United Nations. Non Resident Gujaratis (NRGs) maintain active links with the homeland in the form of business, remittance, philanthropy, and through their political contribution to state governed domestic affairs.
Gujaratis in United Kingdom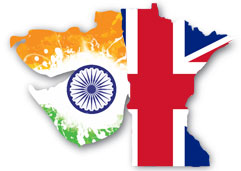 Gujaratis have had a long involvement with Britain. The original East India Company set up a trading post in the port city of Surat in Gujarat in 1615.
These were the beginnings of first real British involvement with India that eventually led to the formation of the British Raj. The third largest overseas diaspora of Gujaratis, after Pakistan and United States is in the UK.
At a population of around 600,000 Gujaratis form almost half of the Indian community who live in the UK (1.2 million). Gujaratis first went to the UK in the 19th century with the establishment of the British Raj in India
The present day Gujarati diaspora in UK is mostly the second and third generation descendants of "twice-over" immigrants from the former British colonies of East Africa, Portugal and Indian Ocean Islands.
Gujaratis in Britain are regarded as affluent middle-class peoples who have assimilated into the milieu of British society. They are celebrated for revolutionizing the corner shop, and energising the British economy which changed Britain's antiquated retail laws forever.
Demographically, Hindus form a majority along with a significant number of Jains and Muslims and small number of Gujarati Christians. They are predominantly settled in metropolitan areas like Greater London, East Midlands, West Midlands, Lancashire and Yorkshire.
Cities with significant Gujarati populations include Leicester and London boroughs of Brent, Harrow and Wembley.
Both Hindus and Muslims have established caste or community associations, temples, and mosques to cater for the needs of their respective communities.
Gujarati Hindus in the UK have maintained many traditions from their homeland. The community remains religious with more than 100 temples catering for their religious needs. All major Hindu festivals such as Navratri, Dassara, and Diwali are celebrated with a lot of enthusiasm even from the generations brought up in UK.
Gujarati Hindus also maintain their caste affiliation to some extent with most major castes having their own community association in each population center with significant Gujarati population such as Leicester and London suburbs.
The Shree Prajapati Association is a charity, already thriving in East Africa, which has 14 branches in the U.K. and is strongly dependent on support from the Gujarati community in Britain.
The Surname MISTRY – according to Wikipedia
Mistry, or Mistri, is a surname found in India or amongst people of Indian origin namely in the states of Gujarat, Rajasthan, Uttar Pradesh, Bihar and even West Bengal.
This surname is used by many different communities of India. It is an occupation surname.
The word Mistri or Mistry in Maharashtra & Gujarat is identified with people who are experts in architecture or are experts in Building Constructions. Mistry also means carpenter.
The Mistri or Mistry is used as a surname by the Viswakarma Suthar community of Maharashtra, Gujarat, Karachi and Rajasthan. It is a common surname found among them.
Mistri or Mistry is also a common surname in the Parsi community of India. Again, this is a surname adopted by them due to a professional reason, as said earlier, the word Mistri or Mistry in Gujarati Language is identified with people involved in building construction and the Parsi community is known to have their roots in Gujarat.
Mistry or Mistri is also a surname found among Muslim Kadia community living in Kutch and Saurashtra region of Gujarat. Many of them even today use the surname Mistry, which was actually their community or professional identity before they converted to Islam. Many members of their community using Mistry as surname can be found living today in Zanzibar, Tanzania, Kenya, Uganda, Muscat, Maldives, etc., where they have migrated more than a century ago.
The Shree Prajapati Community in Leicester has members where the most common surnames are MISTRY, GAJJAR, SUTHAR, LAD, PRAJAPATI. Majority of the members have roots in Gujarat from the districts of Surat, Navsari and Valsad,
May of our members although having the original roots in Gujarat, have roots back in East Africa (Kenya, Uganda and Tanzania).